Blog: World Refugee Day – Right to Seek Safety

By Jordan Clark Marcichiw
Each year on June 20th countries from across the globe celebrate World Refugee Day, a day designated to honour the bravery, courage, and resilience of those who have been forced to flee their countries of origin to escape conflict or disaster. It is a day that creates public awareness and calls upon better support of people who are refugees in our communities.   
The United Nations declared June 20th World Refugee Day in the year 2001, which marked the 50th anniversary of the 1951 Convention Relating to the Status of Refugees. (1) This year's theme is the Right to Seek Safety, declaring everyone has the right to seek safety – whoever they are, wherever they come from, and whenever they are forced to flee. (1)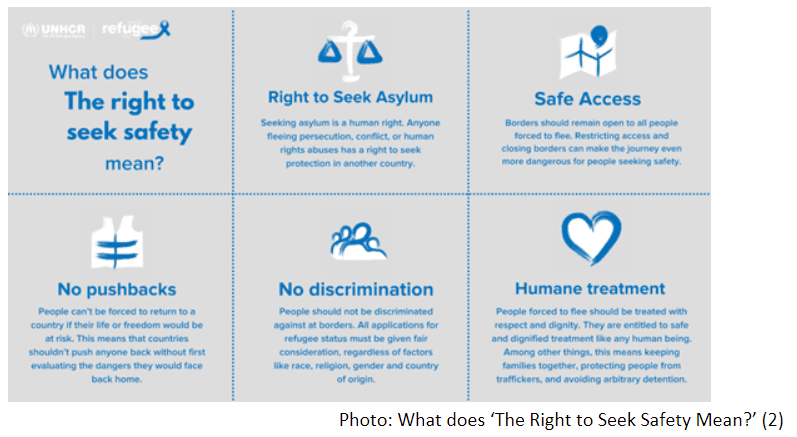 Whoever  
"Whoever they are, people forced to flee should be treated with dignity. Anyone can seek protection, regardless of who they are or what they believe. It is non-negotiable: seeking safety is a human right." (1) 
In Canada, we have welcomed over one million refugees, diversifying our communities and strengthening our workforce.  Refugees are often depicted as being burdens on society, which is not the case (3).  Statistics show over half of refugees are employed in high-skilled jobs, are younger and more likely to be of working age, and 14% of refugees are self-employed entrepreneurs (compared to the 12% of Canada-born entrepreneurs). (4) It is important to remember that regardless of work status, all people have a right to safety.   
Wherever  
"Wherever they come from, people forced to flee should be welcomed. Refugees come from all over the globe. To get out of harm's way, they might take a plane, a boat, or travel on foot. What remains universal is the right to seek safety." (1) 
Refugees in Canada have come from a variety of countries, such as Syria, the Ukraine, Iraq, Thailand, Kosovo, and Poland. (5)  The narrative which presents refugees as "good vs. bad" based on their country of origin remains persistent today. (3) For example, Afghan refugees are currently navigating stricter and more complex barriers to access refuge in Canada, compared to Ukrainian refugees. (6) Though many Ukrainian refugees do not meet the traditional United Nations High Commissioner for Refugees (UNHCR) definition of refugee, the Canadian government has made several policy changes to offer refuge to Ukrainians who have been displaced. (6)  While the support offered to Ukrainian refugees is commendable, this level of support should be available to all refugees, regardless of their country of origin.     
Whenever  
"Whenever people are forced to flee, they have a right to be protected. Whatever the threat – war, violence, persecution – everyone deserves protection. Everyone has a right to be safe." (1) 
Though Canada continues to admit high numbers of refugees, processing and wait times are highly criticized by refugee advocates.  As of May 2022, Immigration, Refugee and Citizenship Canada (IRCC) have been struggling to get through a backlog of 2.1 million immigration applications (7), delaying the ability of refugees to access safety.  This has created considerable effects on the emotional and physical well-being of people who are refugees.  
What Can I do? 
Advocate

– Consider what you can do to better advocate for refugees across the globe and in Edmonton.  Like other populations in Canada, refugees are a diverse and complex group whose needs will vary. Consider the complexities of being a refugee, ask yourself questions such as: "Do refugee services appropriately support those who also identify as part of the 2SLGBTQIA+ community?", "Are the needs of refugee seniors and children considered in program policies?," or "Are disability services accessible for those in the refugee population?" If the answer to any of these questions is no, then advocacy work needs to be done.   

 
References 
Jordan Clark Marcichiw (she/her) is a social worker who is passionate about spreading knowledge and advocating for systems change for the betterment of all individuals. Her personal interests include hiking, kayaking, skiing, playing slo-pitch, reading, and adventuring with her pup.