Blog: Kwanzaa: Celebrating the 7 principles 

Kawanza is a weeklong festival created from the Watts Riot 1965 which empowers African communities through unity and awareness. 
By Tony Cao Tran, ESPC Volunteer
"We stress culture because it gives identity, purpose, and direction. It tells us who we are, what we must do, and how we can do it" (Karenga, 1967). 
How was Kwanzaa created? 
After an altercation in the Watt's neighborhood in Los Angeles on August 11, 1965. What happened between an African American driver and a Caucasian police officer with the California National Guards spurred a shutdown and curfew time by police (History Com, 2017).  
Kwanzaa is a time of remembrance for the Watts Riot. And the celebration of African cultures; including dance, music, decorations and African artwork (Jones et al., 2022). 
Today Kwanzaa events also bring Canadians interested in learning about Kawanza, together to learn during this festival week. 
When is it Celebrated? 
Kwanzaa spread into Canada from United States and was first recognized during 1993 (Time and Date, 2022).  The Kwanzaa festival invites people from all diverse backgrounds between December 25th and January 1st to celebrate.   
As of now there are no in-person gatherings for Kawanza events in Edmonton, Alberta, but there are events for anyone to join virtually.  The 7-day event titled Political Literacy Kwanzaa Series: Analyzing NAARC's Reparations Program is available on Eventbrite December 26th at 10:00 am MST (Eventbrite Canada, 2022).  
What would you see if you went? 
Kwanzaa events bring people together in harmony with topics around African thinkers, writing, poetry, African drumming and sharing meals. In the dining room the table has a red or green tablecloth and in the center a mat made of traditional woven materials called the mkeka. 
The kinara will be the centerpiece of the mat which holds the candles. The black candle, meaning the people, goes in the middle. The three red candles explain the continuing struggle, placed on the left side of the kinara, and the green candles meaning the future go on the right side of the kinara; all seven candles are called Mishumaa Saba standing for the seven candles and principles.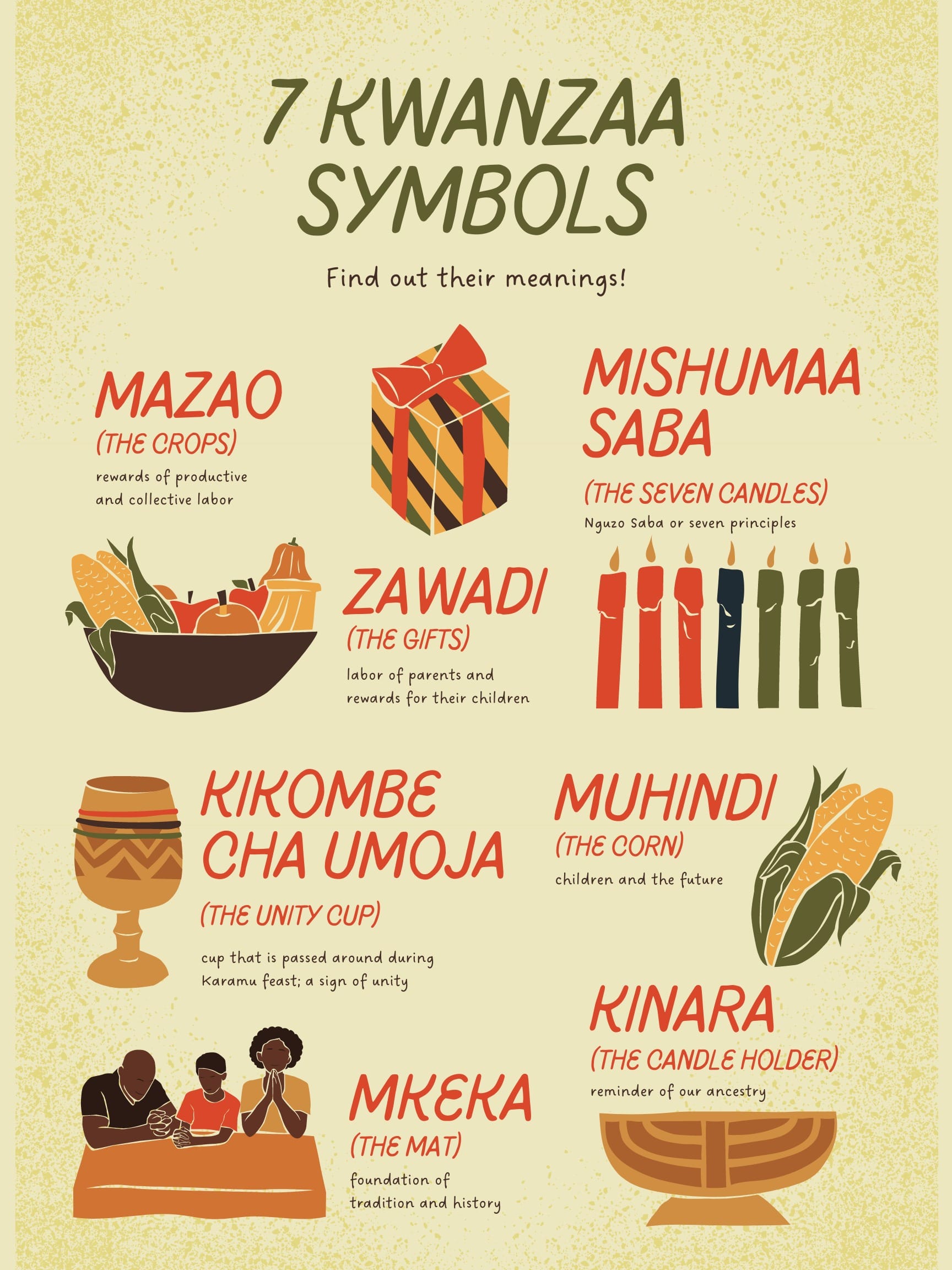 Baskets and bowls of fruit and vegetables surround the centerpiece and there are ears of corn which stand for the African concept of social parenthood (dummies, 2016). The karamu, or Kwanzaa feast caps off the week of celebrating on New Year's Eve (dummies, 2016). 
What are the Seven Principles? 
These seven pillars can be used for daily life; in terms of building virtues which can be used towards how we relate to each other. Each day starting from December 26 to January 1st one candle is lit. Each day stands for a core value expressed by Unity, Self Determination, Work-Responsibility, Economics, Purpose, Creativity and Faith (InterExchange, 2020).  
The Pan African Flag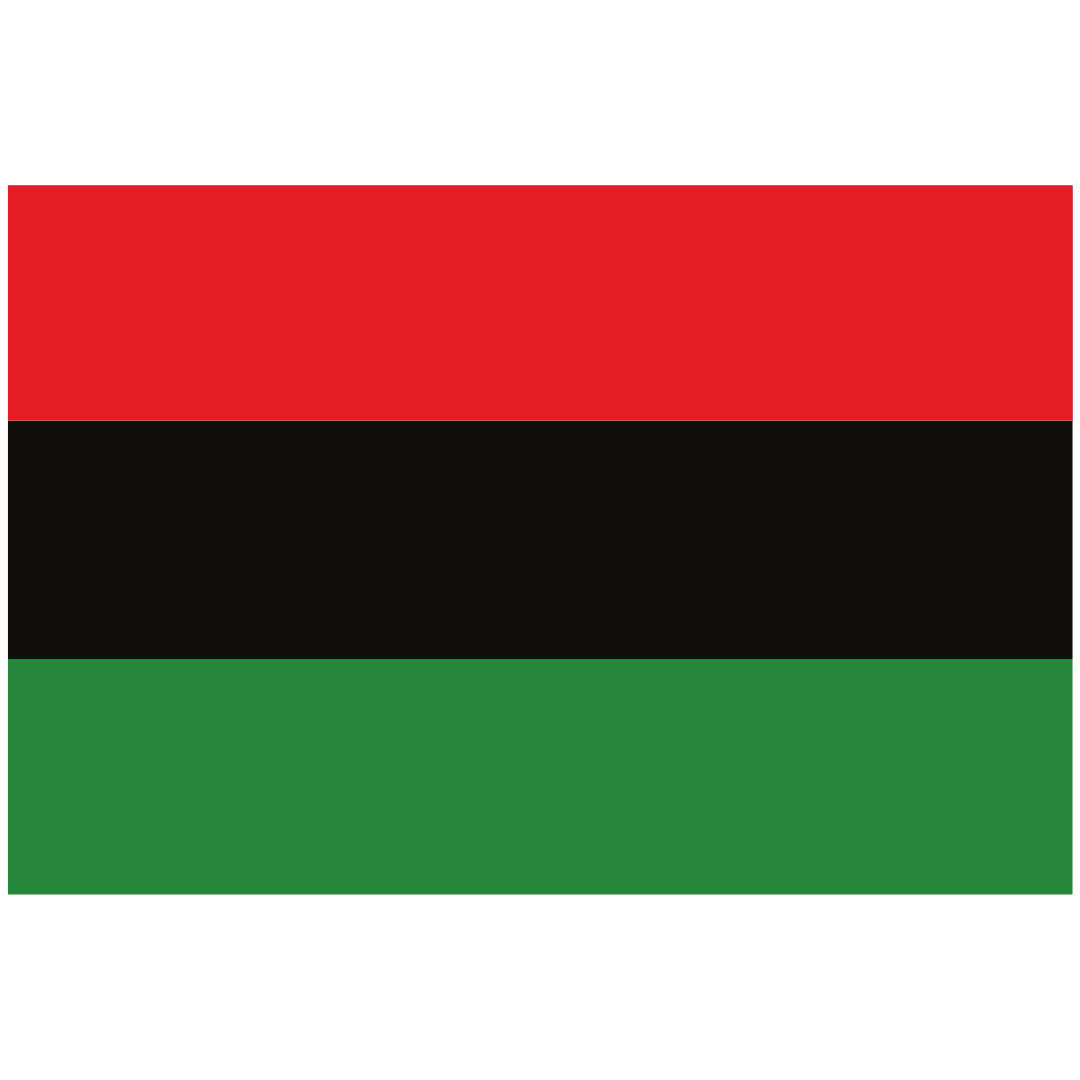 At Kawanza gatherings, the Pan-African Flag is also common; with three solid lines across; red meaning the struggle, black is the people and green is the future (National Musuem of African American History and Culture, 2022). 
The solid colors start with red means blood relating to the challenges where the fight of group was involved, Black is for the people, and green is the flourishing forestry or the lands of Africa (Byard, 2022). 
The Pan-African flag and its distinctive colors are often seen during the African Heritage Month and Emancipation Day celebration, flying outside of provincial, municipal town halls, schools, police stations, and during proclamation ceremonies (Byard, 2022).  
What is this all for? 
The first Kawanza principle means Unity, by practicing and learning about and with, will build connections among one another.  In that way, interacting with more community is how individuals are going to grow a deeper understanding of each other. Recognizing that we are all valued people.  
The Watts Riot during 1965 shows how a lack of connection and understanding for each other created a riot. Today, advocates in the name of Dr. Karenga inspire many; about a place of love and equal understanding of each other in community; through cultural events like Kwanzaa.  
To learn more, click on link below: What is Kawanza and How is it celebrated; https://www.youtube.com/watch?v=JKLvaql9Xvg&t=209s (about 3 and a half minutes) 
Bio: I am currently, employed within the recycling industry; I am pursuing studies in recruitment; but want to spend my time volunteering with fellow social advocates which I felt ESPC was an adequate fit. On my spare time; I spend with my family, dogs and writing. 
Reference Page 
Byard, M. (2022, August 4). The red, black, and green flag and Pan-Africanism's historic connection to Nova Scotia. Halifax Examiner. https://www.halifaxexaminer.ca/black-nova-scotia/the-red-black-and-green-flag-and-pan-africanisms-historic-connection-to-nova-scotia/ 
Dummies. (2016, March 26) How to Decorate the Kwanzaa Table. https://www.dummies.com/article/home-auto-hobbies/crafts/gifts-holidays/how-to-decorate-the-kwanzaa-table-194803/ 
For the Cause STI Awareness Charity, Inc. (n.d.). Political Literacy Kwanzaa Series: Analyzing NAARC's Reparations Program. Eventbrite. Retrieved December 13, 2022, from https://www.eventbrite.ca/e/political-literacy-kwanzaa-series-analyzing-naarcs-reparations-program-tickets-480820746797?aff=ebdssbonlinesearch&keep_tld=1 
Inside Edition. (2019, Dec 2019). What Is Kwanzaa and How Is It Celebrated? [YouTube]. What Is Kwanzaa and How Is It Celebrated? 
History.com Editors. (2017, September 28). Watts Rebellion. HISTORY. https://www.history.com/topics/1960s/watts-riots#section_3  
InterExchange. (2020, July 20). The History, Principles, and Symbols of Kwanzaa. https://www.interexchange.org/articles/career-training-usa/history-principles-and-symbols-of-kwanzaa/  
Jones, E., Chamberlin, M., & Datil, A. (2021, December 23). Yes, Kwanzaa originated in the United States. Verify. https://www.verifythis.com/article/news/verify/holiday-verify/kwanzaa-originated-in-the-united-states/536-e67ba6a2-a33f-4c62-ac9f-bed6ff2a710a  
National Museum of African American History and Culture.  (n.d.). The Seven Principles of Kwanzaa. Smithsonian. Retrieved December 19, 2022, from https://nmaahc.si.edu/explore/stories/seven-principles-kwanzaa 
Time and date (2022, December 26). Calendar from https://www.timeanddate.com/holidays/us/kwanzaa