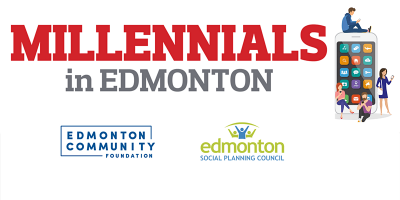 Time
You must register to participate.
12:00 pm - 1:00 pm
Register Here
Lunch and Learn: Vital Signs 2020
Join us in our series of free lunchtime talks about social issues and learn about diverse ways to help create a community in which all people are full and valued participants!
This Lunch & Learn is on Vital Signs 2020! Vital Signs is an annual check-up conducted by Edmonton Community Foundation, in partnership with the Edmonton Social Planning Council, to measure how the community is doing.
This year's topic is about Millennials in Edmonton, focusing on all things related to this dynamic but often misunderstood generation. This edition of Vital Signs will focus on their financial realities (e.g. student debt load, precarious work), their activism and engagement (e.g. voting patterns, political causes, philanthropy), their use of technology (e.g. social media, smartphone apps, e-commerce), and are setting trends that are changing the world.
Speakers:
Elizabeth Bonkink, Edmonton Community Foundation
Sandra Ngo, Edmonton Social Planning Council
When:
Thursday, October 8, 2020 at 12 PM

Where:
Online via Zoom (register here to secure your spot).

Local Time
Timezone:

America/New_York

Date:

Oct 08 2020

Time:

2:00 pm - 3:00 pm