Blog: Pride Month: Combating Heterosexism, Discrimination, and Oppression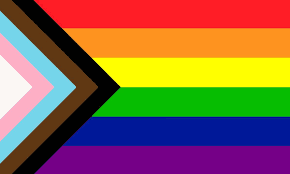 By Amanda Labonte and Sydney Sheloff 
While Pride is celebrated during the month of June, respecting, and honoring people of the 2SLGBTQQIA+ community should be a commitment to equity, diversity, and inclusion we make every day. 
Heterosexism is a pervasive systemic oppressive force that is both invisible and intentional. Heterosexism is rooted in the idea that binary, meaning cisgender female and male identities, and heterosexual relationships as superior and 'normal' [4]. Heterosexism reinforces homophobia and transphobia, and together, these forces are responsible for many of the continued social policies and practices that are oppressive to 2SLGBTQQIA+ people. For example, increased houselessness in 2SLGBTQQIA+ youth, where 51% of youth reported they were on the street due to conflict in the home [2], 2SLGBTQQIA+ older adults entering long-term care often 'go back in the closet' to avoid prejudice and discrimination [1], as well 2SLGBTQQIA+ folk experience higher rates of poverty [3]. 
People who identify as heterosexual see their relationships on television, in books, and in advertising. People who identify as binary never have to think about the consequences of which bathroom to use or which part of the clothing store to shop in. These discriminatory methods are used to reinforce heterosexist ideology and are intentionally harmful.  
To combat heterosexism, it is important to learn and engage in materials to understand the beauty and diversity of gender and sexualities. It is important to use appropriate pronouns as respectful and inclusive practice. In solidarity with 2SLGBTQQIA+ persons and community, listed below are some resources to facilitate further conversation and understanding. 
Watch Videos to Better Understand Terms: 
Two-Spirit 
them. (11, December 2018). What does "Two-Spirit" mean? [Video]. YouTube. https://www.youtube.com/watch?v=A4lBibGzUnE&t=9s 
Intersex 
them. (4, December 2018). What does intersex mean? [Video]. YouTube. https://www.youtube.com/watch?v=n_5l2fwWGco 
Transgender 
them. (7, September 2018). Angelica Ross explains the history of the word 'Transgender'. [Video] YouTube. https://www.youtube.com/watch?v=gXH7vytxGus 
Queer 
them. (21, February 2018). Tyler Ford explains the history behind the work "Queer." [Video]. YouTube. https://www.youtube.com/watch?v=UpE0u9Dx_24 
Learn About Pronouns and How to Use Them: 
The Diversity Center. (n.d.). Pronouns: A how-to. https://www.diversitycenterneo.org/about-us/pronouns/ 
Read Literature by 2SLGBTQQIA+ Authors: 
Mohamed Abdulkarim Ali 
Ali is a Somalian-Canadian writer who writes about his lived experiences. 
We suggest: 
Ali, M. A. (2019). Angry queer Somali boy. University of Regina Press. 
Lee Airton 
Airton is an Assistant Professor of Gender and Sexuality Studies in Education at Queen's University in Kingston, Ontario and is a researcher, blogger, advocate and speaker. Airton was founder of the website They Is My Pronoun, which has been archived. 
We suggest: 
Airton, L. (2019). Gender: Your guide – a gender-friendly primer on what to know, what to say, and what to do in the new gender culture. Adams Media. 
Archie Bongiovanni & Tristan Jimerson 
This pair teamed up to write the guide on they/them pronouns in a graphic novel/comic book style. It is an easy read that explains pronouns, how to use them, how to ask about someone's pronouns and what to do if you make a mistake.  
Bongiovanni, A. & Jimerson, T. (2018). A quick & easy guide to they/them pronouns. Limerence Press.  
Vivek Sharaya 
Vivek Sharaya is a transgender artist of colour "whose body of work crosses the boundaries of music, literature, visual art, theatre, and film." 
We suggest: 
Sharaya, V. (2018). I'm afraid of men. Penguin Random House. 
Billy Ray Belcourt 
Belcourt is an academic and poet from Driftpile Cree Nation. His poetry explores ideas around the queer Indigenous experience, and how Indigenous people deal with pain, violence, and grief, showcasing their resilience.   
We suggest:   
Belcourt, B.-R. (2017). The wound is a world. Frontenac House Ltd.   
Belcourt, B.-R. (2019). NDN coping mechanisms: Notes from the field. House of Anansi Press Inc.   
Ma-Nee Chacaby 
Chacaby is an Ojibwe-Cree writer, artist and activist. 
We suggest: 
Chacaby, M. (2016). A Two-Spirit Journey: The Autobiography of a Lesbian Ojibwa-Cree Elder. University of Manitoba Press.  
Rinaldo Walcott 
Walcott is the Director of Women and Gender Studies Institute and an Associate Professor at the Ontario Institute for Studies in Education at University of Toronto. 
We suggest: 
Walcott, R. (2016). Queer returns: Essays on multiculturalism, diaspora, and Black studies. Insomniac Press 
Learn About Local 2SLGBTQQIA+ History 
Edmonton Queer History Project  
This site has an Edmonton walking tour map as well as a podcast.  
Support or Volunteer with a 2SLGBTQQIA+ Organization 
Rainbow Alliance for Youth of Edmonton 
References 
[1] CMHC (July 25, 2019). LGBTQ2S+ Housing Needs and Challenges. https://www.cmhc- schl.gc.ca/en/blog/2019-housing-observer/lgbtq2s-housing-needs-challenges 
[2] Homeless Hub (2021). Lesbian, gay, bisexual, transgender, transsexual, queer, questioning and Two-Spirit (LGBTQ2S). 
 https://www.homelesshub.ca/about-homelessness/population-specific/lesbian-gay-bisexual-transgender-transsexual-queer 
[3] Researching for LGBTQ2S+ Health ( 2022) The Canadian Coalition Against LGBTQ+ Poverty. https://lgbtqhealth.ca/projects/canadiancoalitionagainstlgbtqpoverty.php 
[4] Vancouver Island University. (n.d.) Heterosexism. https://adm.viu.ca/positive- space/heterosexism