Blog: Why Not Both: Albertans Struggling to Afford Housing and Food

The Alberta government has recently recorded the largest surpluses in history, yet many people across the province struggle to afford life's necessities. Learn why some Edmontonians have to make tough choices for their households and why the food bank is busier than ever.
By Carrie Cyre, ESPC Volunteer
Alberta has continually been an economically strong province, often topping the list of the highest wages among the provinces. For example, in 2021, the average two-worker family income in Alberta was almost $100 000, and over 15% of working Albertans earn more than $100 000 per year (Siever, 2020; Statistics Canada, 2022).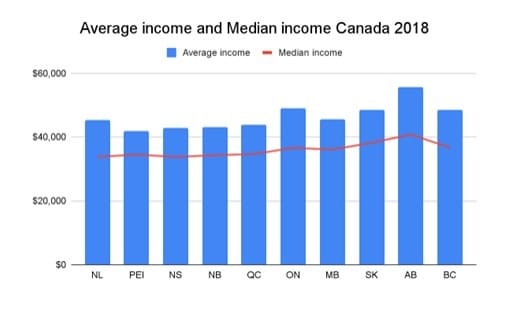 (data from Statistics Canada 2022) 
 However, many Albertans live in poverty. Alberta has the highest income gap between the highest and lowest earners in Canada (excluding the territories) (Statistics Canada, 2022). In 2022 over 400,000 Albertans will live in poverty, including about 160,000 children (Sheloff et al., 2022). Those living in poverty may be unemployed, experiencing homelessness, relying on social assistance as the primary source of income, or employed. For example, 25,000 Edmontonians rely on the Assured Income for the Severely Disabled (AISH), which provides a maximum income of $1685.00, well below the average or even minimum wage (Government of Alberta, 2022).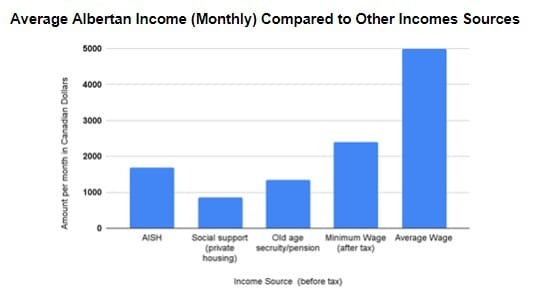 (data from Edmonton Community Foundation, 2020; Government of Alberta, 2021) 
Nearly 12% of Edmontonians earn minimum wage (Government of Alberta, 2021). Minimum wage earners are at all ages and career stages, including students, single parents, and seniors. Almost 60% of minimum wage earners in Edmonton are women (Edmonton Community Foundation, 2021). The current minimum wage in Alberta is $15.00 an hour, last raised in 2018 (Government of Alberta, 2021). According to Living Wage Alberta, a minimum wage of at least $18.00 an hour would support individuals living a dignified, healthy, and secure life (Alberta Living Wage Network, 2021).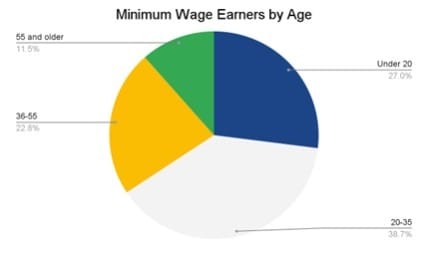 The Cost of Food  
Alberta recently made the news for having the highest food insecurity in the nation (excluding the territories) (Smith, 2022). Food insecurity occurs when a family or household lacks regular access to safe and nutritious food (APCCP, 2017). In addition, food insecurity may be due to the unavailability of food, such as in a famine, or the lack of resources (usually money) to purchase sufficient, healthy food (Proof, 2021).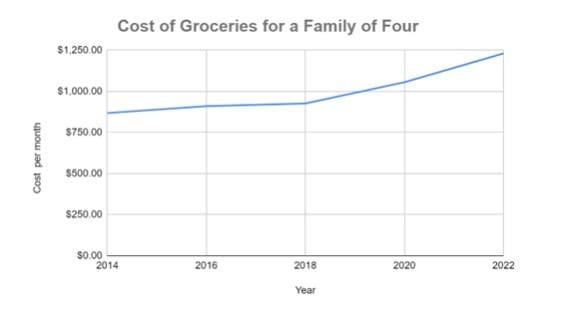 (data from Dalhousie University et al, 2022) 
Food prices in Alberta are some of the highest in Canada, and many families are feeling the strain. By June 2022, food prices in Alberta have increased by up to 7%, especially for fruits, vegetables, and dairy products (Dalhousie University et al., 2022). The increased cost of food has affected the cost of groceries and eating at restaurants. Some families have reported cutting back on eating out, as well as cutting intake of fruit and vegetables to save money (Harris, 2022). 
As a result, the Edmonton Food Bank has seen a 196% demand increase from June 2020 to June 2022 (Panza-Beltrandi, 2022). In addition, individuals from all demographics use the food bank, including working people, students, those who experience homelessness, older adults, single parents, and families with children (Middleton et al., 2019). Finally, one group that has been increasing access to the food bank is single adults who live alone, indicating that their income from salary or government benefits is insufficient to support a place to live and a healthy diet (Ogston, 2022). Unfortunately, the food bank, meant for short-term emergency relief, is becoming a regular food source for some low-income people (Middleton et al., 2018). 
The Cost of Housing 
For many Canadians, the most significant monthly bill is rent or mortgage payments. Housing in Canada is one of the most expensive markets worldwide (Morel, 2022). While homeownership rates have been consistent, home ownership is much lower in young Canadians, Indigenous persons and racialized Canadians (CHHC, 2021; Morel, 2022). For example, in 2016, persons under the age of 65 were less likely to own their homes than a similar group ten years earlier (Statistics Canada, 2021). Canadians have doubled their mortgage debt since 2016 due to rising housing costs (Uppal, 2019). In addition, rent has gone up considerably in the last ten years. In 2022, the average rent for a one-bedroom in Edmonton is over $1050.00 a month, and for a three-bedroom, almost $1600.00 a month (Springer, 2022).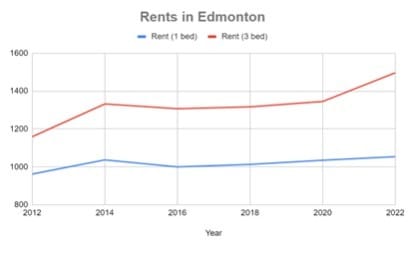 Conclusion 
Both the right to food and housing are part of the UN Universal Human Rights (UN, 2022).  
However, Canada has yet to make these rights part of the Canadian Constitution. In 2019, Canada launched its first-ever Food Policy with funding of $134 million (Government of Canada, 2021). Canada also has deployed a Housing Strategy that aims to build more housing, more affordable housing, and reduce chronic homelessness (Government of Canada, 2017). However, critics argue that neither of these policies has had much effect, and the price of food and housing is higher than ever (Caron et al., 2022; Proof, 2018). Instead, policy should focus on increasing the income of Canadian households to help them bear the changes in housing and food costs, specifically through increased minimum wages and social support benefits  (Proof, 2018; Key & Ford-Jones, 2015).  
Ensuring safe and sufficient housing and food is essential for a healthy life and can save the Canadian health care system millions in the future (APCCP, 2016). Appropriate housing and food are essential values of life in Canada. However, many households and families living on government assistance, disability assistance, or even working full time find they cannot afford both. So why should Canadian families be forced to make tough choices between having a place to live or eating healthy food in the wealthiest province in one of the most prosperous nations in the world? 
Did You Enjoy this Blog? Please provide us feedback here 
Carrie Cyre is a public health student and currently working on her master's degree. She has been volunteering in her community for over a decade, including the UncoverOliver Working Group. When she isn't studying or volunteering, Carrie loves travel (pre- and hopefully post-COVID), coffee, and enjoying nature. 
References 
Alberta Living Wage Network. (2021). News Release.

Alberta Living Wage Network.

 

https://livingwagealberta.ca/2021/11/01/alberta-living-wage-network-launches/ 

APCCP. (2017). Action on Household Food Insecurity.

Alberta Policy Coalition for Chronic

 

Disease Prevention

(APCCP).

https://abpolicycoalitionforprevention.ca/take-action/

Canada Mortgage and Housing Corporation. (2021). Housing Market Information Portal. 

https://www03.cmhc-schl.gc.ca/hmip-pimh/en/TableMapChart/Table?TableId=2.2.11&GeographyId=48&GeographyTypeId=2&DisplayAs=Table&

GeograghyName=Alberta

Caron, N., Plunkett-Latimer, J. (2022). Canadian Income Survey: Food insecurity and unmet health care needs, 2018 and 2019.

Statistics Canada

;

https://www150.statcan.gc.ca/n1/pub/75f0002m/75f0002m2021009-eng.htm

CHHC. (2021). Homeownership Rate by Race.

Research Insight.

https://assets.cmhc-schl.gc.ca/sites/cmhc/professional/housing-markets-data

-and-research/housing-research/research-reports/housing-finance/research

-insights/2021/homeownership-rate-varies-significantly-race-en.pdf?

rev=af9ae04d-00bd-43ce-8619-d5e5d4a37444

Dalhousie University, University Of Guelph, University Of Saskatchewan, & University Of British Columbia (2022).

Canada's Food Price Report 12th Edition

.

 https://cdn.dal.ca/content/dam/dalhousie/pdf/sites/agri-food

/Food%20Price%20Report%20-%20EN%202022.pdf

Edmonton Community Foundation. (2021). A primer on Income and the cost of living in Edmonton. https://edmontonsocialplanning.ca/wp-content/uploads/2021/04/FINAL-

2021A-primer-on-Income-cost-of-living-in-Edmonton.pdf

Gibson, C. (2022). Alberta has the highest food insecurity rate among Canadian provinces: Report.

Global News.

https://globalnews.ca/news/9079245/alberta-food-insecurity-highest-canada-report/

Government of Alberta. (2022). AISH Policy Manual: AISH Program Policy

http://www.humanservices.alberta.ca/AWOnline/AISH/7242.html

Government of Alberta. (2021). Alberta Minimum Wage Profile. https://open.alberta.ca/dataset/3027b65e-16f4-4442-bfa4-0ea73a73ec49/resource/307f3223-bd7f-49bc-86aa-e09c23aba01c/download/lbr-alberta-minimum-wage-profile-2019-10-2020-09.pdf

Government of Canada. (2021). The Food Policy for Canada.

Agriculture

.

https://agriculture.canada.ca/en/about-our-department/key-departmental-initiatives/food-policy/food-policy-canada

Government of Canada. (2017). Canada's National Housing Strategy.

https://eppdscrmssa01.blob.core.windows.net/cmhcprodcontai

n

er/sf

/project/placetocallhome/pdfs/canada-national-housing-strategy.pdf

Harris, R. (2022). People are cutting back on fresh produce as prices rise: Study.

Canadian

Grocer

. https://canadiangrocer.com/people-are-cutting-back-fresh

-produce-prices-rise-study

Ke, J., & Ford-Jones, E.L. (2015). Food insecurity and hunger: A review of the effects on children's health and behaviour.

Paediatrics & Child Health, 20

(2), 89–91.

https://doi.org/10.1093/pch/20.2.89

Middleton, G., Mehta, K., McNaughton, D.,&  Booth, S.(2018). The experiences and perceptions of food banks amongst users in high-income countries: An international scoping review.

Appetite,12

, 698-708. https://doi.org/10.1016/j.appet.2017.10.029

Morel, L. (2022). Analyzing the house price boom in the suburbs of Canada's major cities during the pandemic.

Bank of Canada.

https://www.bankofcanada.ca/2022/06

/staff-analytical-note-2022-7/

Ogston, S. (2022). Calgary: Who Uses The Food Bank?

Food Bank Blog.

https://www.calgaryfoodbank.com/2019/who-uses-the-food-bank/

Panza-Beltrandi, G. (2022). Edmonton's Food Bank struggling with massive demand as Inflation, prices soar.

CBC News.

https://www.cbc.ca/news/canada/edmonton/

edmonton-food-bank-inflation-donations-1.6543895
Panza-Beltrandi, G. (2022). Edmonton's Food Bank struggling with massive demand as inflation, prices soar. https://www.cbc.ca/news/canada/edmonton/edmonton-food-bank-inflation-donations-1.6543895

 

Proof. (2021). Video: How to tackle food insecurity in Canada.

Food Insecurity Policy Research.

https://proof.utoronto.ca/resource/how-to-tackle-food-insecurity-in-canada/

Sheloff, S., Lafortune, B., Jo, S., & Kruse L. (2022). Poverty in Alberta: A Policy Choice, not a Necessary Reality.

Edmonton Social Planning Council.

https://edmontonsocialplanning.ca/2022/03/18/child-poverty-in-alberta-a-policy

-choice-not-a-necessary-reality/

Siever, K. (2020). Alberta has more rich people than any other province in Canada.

Albertan

Worker.

https://albertaworker.ca/news/alberta-has-more-rich-people-than-any-other-

province-in-canada/#:~:text=Over%2015%25%20of%20those%20receiving,the%20highest%20in%20the%20country.

Smith, M. (2022). Alberta tops food-insecurity rates across Canadian provinces: Report. https://edmontonjournal.com/news/local-news/alberta-tops-food-insecurity-rates-across-canadian-provinces-report

Springer A. (2022). Living in Colour: Racialized Housing Discrimination in Canada.

Homeless

Hub.

https://www.homelesshub.ca/blog/living-colour-racialized-housing-

Discrimination-canada

Statistics Canada. (2021). Employment in the natural resources sector by type of worker.

https://www150.statcan.gc.ca/t1/tbl1/en/tv.action?pid=3610065401

Statistics Canada. (2022). Income of individuals by age group, sex and income source, Canada, provinces and selected census metropolitan areas.

https://doi.org/10.25318/1110023901-eng

Uppla, S. (2019). Insights on Canadian Society Catalogue Homeownership, mortgage debt

and types of mortgage among Canadian families

. Statistics Canada. 

https://publications.gc.ca/collections/collection_2019/statcan/75-006-x/75-006-2019-12-eng.pdf

United Nations. (2022). The human right to adequate housing.

Special Rapporteur.

https://www.ohchr.org/en/special-procedures/sr-housing/human-right-adequate-housing