81st Annual General Meeting
Join us for our 81st Annual General Meeting!
When: Thursday, May 27, 2021, 5:30 – 7:30 PM
Where: Online, via Zoom (register here to secure your spot)
Business Meeting: 5:30 – 6:45 pm
Keynote Speaker: 6:45 – 7:30 pm
This year, Carissa Halton is our keynote speaker! In her presentation, "Lessons on Community-Building from a Misunderstood Neighbourhood," she will be speaking about what it takes to make a neighbourhood thrive. She will be sharing the "funny, sad, and make-you-mad stories" of Alberta Avenue's diverse residents.
IMPORTANT NOTE:
Your membership must be current in order to vote!
Information on renewing or joining ESPC's membership is available on our website (https://edmontonsocialplanning.ca/membership/)
Contact us for more information on your membership status at info@edmontonsocialplanning.ca
AGM Package: CLICK HERE TO ACCESS THE 2021 AGM PACKAGE
We look forward to seeing you there!
---
Subscribe to our email and newsletters and don't miss announcements on future Lunch and Learns, notices of new publications, upcoming events, and ESPC announcements. Subscribe today (click here)
The strength of our voice is dependent on the support of people and organizations concerned about social issues; people like you! The Edmonton Social Planning Council is a non-profit registered charity that is funded by personal donations, memberships, and project funders. If you would like to be more involved, please consider a membership, donation or becoming a volunteer.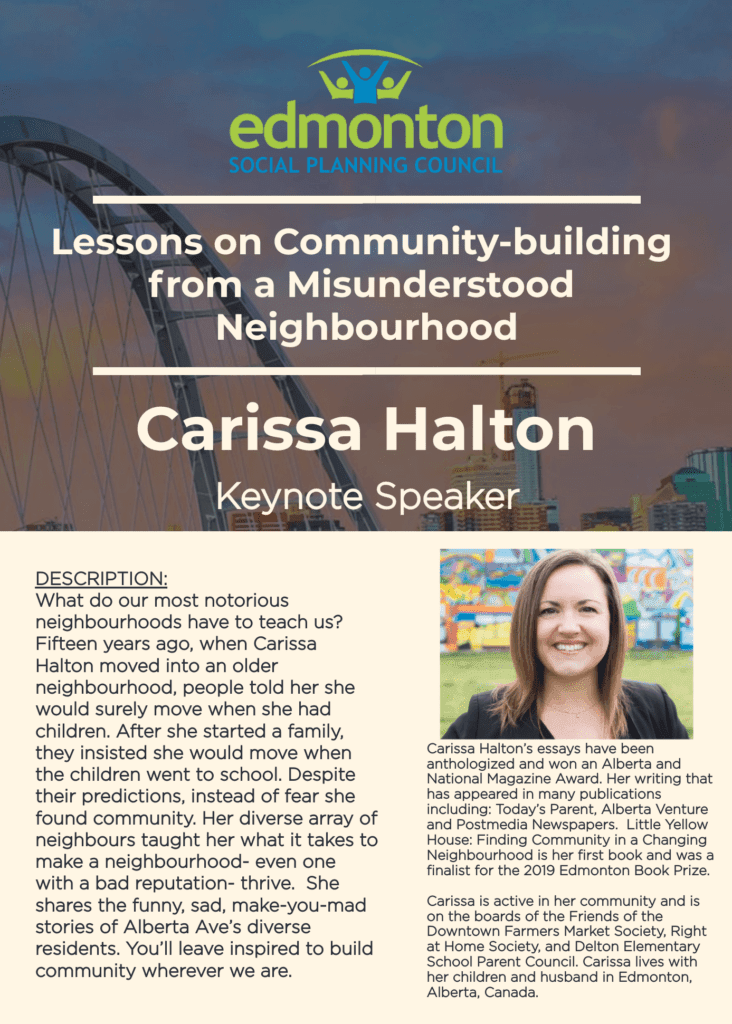 Hourly Schedule
Annual General Meeting
5:30

-

6:45

AGM

Business Meeting
6:45

-

7:30

Keynote Speaker

Carissa Halton - "Lessons on Community-Building from a Misunderstood Neighbourhood,"

Local Time
Timezone:

America/New_York

Date:

May 27 2021

Time:

7:30 pm - 9:30 pm